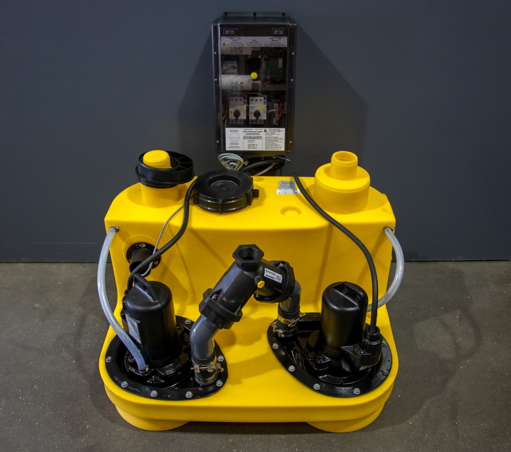 Sewage Pump System (Floor Mounted)
The floor-mounted sewage pump system is still considered to be "new" technology, but we have been successfully marketing them with great success for 20 years.
Among our happy clients are Tesco, Aldi, Marks and Spencer, Costa Coffee and Caffe Nero who all use this technology.
Using this floor mounted sewage pump technology you are able to put a bank of toilets on the 17th storey of a building, and the other advantage is that they are able to handle other sanitary items that can sometimes be put down the toilet.
Customers like Caffe Nero like our single sewage pump system because in the past they have had terrible problems with the general public abusing the public facilities that Caffe Nero have on offer.
Ensure you have the right floor mounted sewage lifting station for your application?
Pump Technology Ltd is one of the UK's Leading wastewater and sewage pumping experts.
Arguably we have supplied by far the greatest number/range of sewage lifting stations to solve pumping requirements for commercial buildings here in the UK.
We have been able to do this because we are independent, offer all the leading pump manufacturers equipment, have in-depth product knowledge, plus extensive experience of onsite requirements.
Therefore, the Pump Technology team have the skill and product range to select the pumping station that gives you the best price and technical reliability for your requirements.
It's a winning formula for you! One that has established Pump Technology Ltd as the "Go-To" for floor mounted lifting stations.
All the leading product brands are available from Pump Technology Ltd-
Jung Pumpen, Saniflo/SFA, Zehnder, Sulzer, Grundfos…..
Pump Technology Ltd is truly the "go-to" solution for floor mounted lifting stations.
Technical advice
Large range of floor mounted lifting stations in stocks
Competitive pricing
The EffluMaxi Sewage Pump Range:
In commercial situations, they are hugely superior to the"domestic" macerator systems that are currently available.
Frequently Asked Questions
What maintenance does a sewage lifting station require?
pumptech1
2020-05-11T11:00:47+00:00
It is advised to inspect your EffluMaxi yearly. All fats and grease, plus foreign objects should be removed from the pumping chamber. The EffluMaxi is designed so all parts can be quickly replaced. Please note dedicated inspection hatch and metal to metal fixings for pumping chamber and pumps. The EffluMaxi design is arguably the most used sewage lifting station in the UK for commercial, industrial and utility applications.
Let Pump Technology Ltd take the strain: One Company, One Solution, One CALL
To get technical help for the right specification the first time, call 0118 9821 555