Nationwide Delivery: Fully Stocked Warehouse              Mon to Fri: 9:00am – 5:00pm.                 Call us to order: 0118 982 1555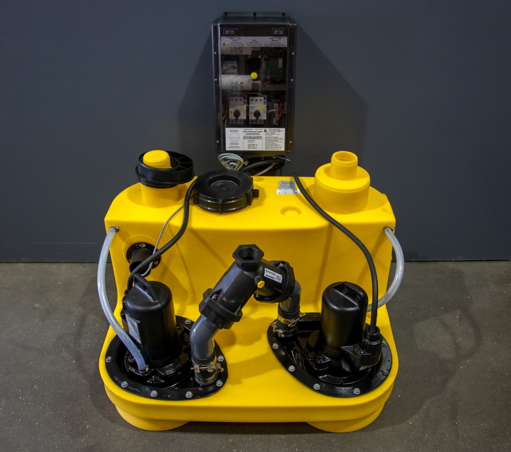 Sewage Pump System (Floor Mounted)
The floor mounted sewage pump system is still considered to be "new" technology, but we have been successfully marketing them with great success for 20 years.
Among our happy clients are Tesco, Aldi, Marks and Spencer, Costa Coffee and Caffe Nero who all use this technology.
Using this floor mounted sewage pump technology you are able to put a bank of toilets on the 17th storey of a building, and the other advantage is that they are able to handle other sanitary items that can sometimes be put down the toilet.
Customers like Caffe Nero like our single sewage pump system because in the past they have had terrible problems with the general public abusing the public facilities that Caffe Nero have on offer.
The Sewage Pump Range: The EffluMaxi
In commercial situations, they are hugely superior to the"domestic" macerator systems that are currently available.
Let Pump Technology Ltd take the strain: One Company, One Solution, One CALL
LATEST
News and Case Studies
Pump Technology launches its first of many informative data sheets to help consultants and contractors ensure they are aware of the best pumping solutions for all applications.
As the UK's leading Jung Pumpen Distributor for Domestic & Commercial products we are able to supply you quickly from our extensive stocks.
As a Civil or Public Health Engineer the New CPD from Pump Technology Ltd will keep you up to date with the latest regulations and pumping equipment / pumping stations solutions.
Pump Technology Ltd. has always provided excellent and prompt customer service and technical support.
They will go out of their way to provide the support and knowledge needed when selecting and specifying pumps and fittings.
Paul Coleman, Senior Mechanical, Consulting Engineer, Mott MacDonald
Pentair Jung Pumpen GmbH ( Germany) and Pump Technology Ltd unite a long and trustworthy relationship.
Pentair Jung Pumpen are proud to have Pump Technology Ltd as an effective partner and stockiest for the UK market.
This partnership has generated several leading pump projects and Pentair Jung Pumpen is confident in the specification, selection, supply and maintenance work completed by Pump Technology Ltd.
We are looking forward to a successful and growing cooperation.
i.V. Werner Schuhegger, Vertriebsleitung Water Disposal EMEA, Water Technologies, Pentair
SHORT ON TIME?
Please call or leave a message
To get technical help for the right specification the first time for floor mounted sewage pump system, call 0118 982 1555 and talk to a real person